Voorkom overladen met de batterij. Overbelasting van lithium-ionbatterijen zal leiden tot ernstige schade aan de prestaties van de batterij en zelfs tot explosies
De levensduur voor hoogontladingsbatterijen is lang en de levensduur kan meer dan 6 jaar bedragen.
De nominale spanning is hoog (de bedrijfsspanning van de unit is 3,7 of 3,2 volt), wat ongeveer gelijk is aan de seriespanning van drie oplaadm aatbatterijen voor nikkel-cadmium of nikkel-waterstof, om zo de groep met batterijvoeding te vormen.

De bovenstaande modellen zijn verkrijgbaar in het YFJ-bedrijf

Model: 3.7V 9Ah, ...
Model: 7.4V-2.2Ah, 4.4Ah, 6.6Ah, 8.8Ah ......
Model: 12V - 4 Ah, 5 Ah, 6 Ah, 8 Ah, 9 Ah, 11 Ah, 12 Ah, 13 Ah, 14 Ah, 15 Ah, 16 Ah, 17 Ah, 18 Ah, 19 Ah, 20 Ah
Modellen: 24V - 4.4Ah, 5Ah, 6.6Ah, 8.8Ah, 9Ah, 11Ah, 13.2Ah, 15.4Ah, 17.6Ah, 19.8Ah, 22Ah, 25Ah, 33Ah
Modellen: 36V - 4.4Ah, 5Ah, 6.6Ah, 8.8Ah, 9Ah, 11Ah, 13.2Ah, 15.4Ah, 17.6Ah, 19.8Ah, 22Ah, 25Ah, 33Ah
Model: 48V - 4.4Ah, 5Ah, 6.6Ah, 8.8Ah, 9Ah, 11Ah
We kunnen ook OEM / ODM-service voor klanten bieden
3.7V 9Ah lithium-ion oplaadbaar batterijpakket

NO.

Items

Specifications

1

Charge voltage

4.35V

2

Nominal voltage

3.7V (1S4P)

3

Initial impedance

90mΩ

4

Nominal capacity

9Ah

5

Minimum capacity

8.8Ah

6

Charge current

Standard Charging::0.2C5A (1.8A)

Rapid charge:0.5C5A C(4.5A) Max

7

Standard Charging method

1.8A(0.2C5A) CC(constant current)charge to 4.35V,then CV(constant voltage 4.35V)charge till charge current decline to ≤90mA(≈0.01C5A)

8

Charging time

Standard Charging:6.5hours(Ref.)

Rapid charge: 3.5hours(Ref.)

9

Max.discharge current

4.5A(0.5C5A)

10

Discharge cut-off voltage

2.75V

11

Shelf life

2 years

12

Cycle life (0.2C5A/0.2C5A)

500 times,≧80%DOD

13

Operating temperature

Charging: 0℃~45℃

Discharging:-20℃~+60℃

14

Storage temperature

Less than 1 month

-10℃~+45℃

Percentage of recoverable capacity :85%

Less than 6 month

-20℃~+35℃

15

Pack Weight

Approx:158g

16

Pack Dimension

Length: Max68.00 mm

Width: Max 57.00 mm

Thickness1:Max 20.00 mm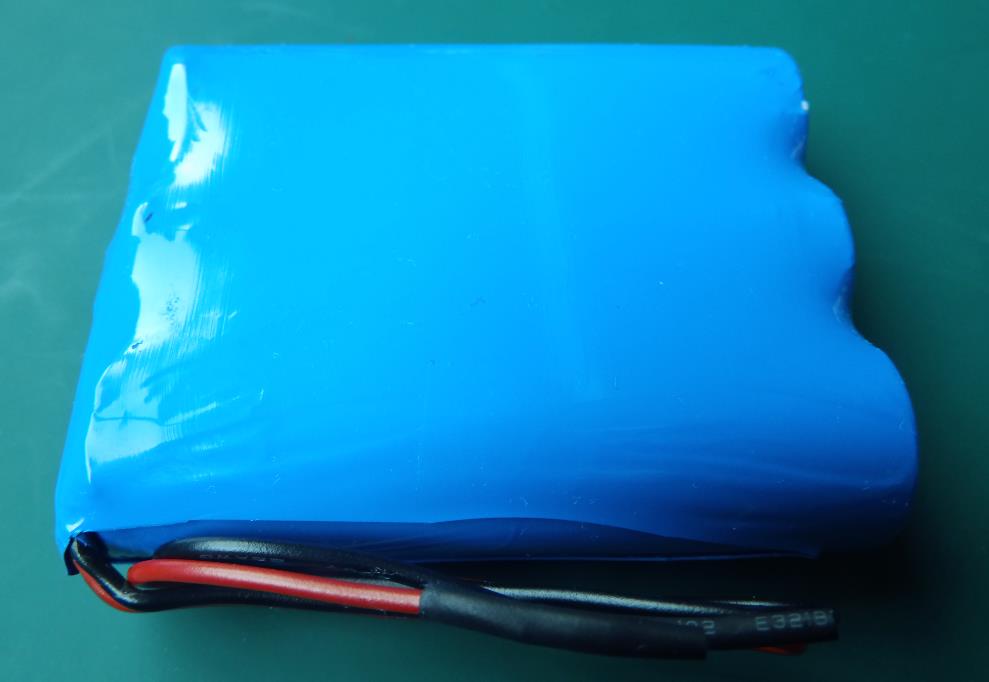 Product Categorie : Lithium batterij > High Power Battery Pack